Judge Mathis is facing litigation.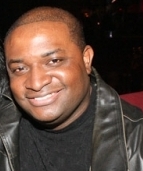 Blog King, Mass Appeal
DETROIT — Here's a classic example of say it, don't spray it: Judge Mathis is headed to court. Except this time he'll be sedentary on the opposite side of the bench. That's because the 59-year-old barrister is accused of expectorating into the countenance of a lowly restaurant valet. The alleged saliva spritz transpired last Friday at Detroit's Flood's Bar and Grille. Keep in mind, Judge Mathis has a big ass gap in his front teeth so he probably squirted by accident. Nevertheless… according to police reports, Mathis went out to retrieve his satiny Rolls Royce after ingesting a pricey entrée. But it took the worker 20 minutes to fetch his keys.
When the valet finally arrived, Mathis lit him up with a profanity-laced tirade in front of several patrons and bistro employees. After Mathis vacated the premises, the mortified valet called police and said the Negro magistrate spit in his face. He then filed a criminal complaint alleging sputum assault.
Mathis, however, denies any wrongdoing and he said it took 40 minutes to get his car.
The good news?
There were multiple witnesses.
Do you believe the judge will be exonerated?
Share your thoughts.