Insurance clerk wrestles a thief.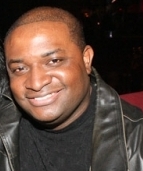 Blog King, Mass Appeal
LOS ANGELES — Concepscion Escalante, 23, was busy working alone inside her family's tax and insurance business in Pomona, California when a scrawny malefactor decided to ingress the venue to effectuate a robbery. But, rather than go out like a lil b*tch, Concepscion fought his ass — forcing the spindly assailant to vacate the premises. The entire ordeal was captured on video. Raw surveillance footage shows a sedentary Concepscion behind a desk at ALE Insurance Services when the marauder interrupts her.
After asking a few questions, the miscreant brandished a machete while barking an exigent behest for the company's mazuma. Seconds later, Concepscion and the crook started wrestling — knocking sh*t all over the floor in the process. The suspect eventually took off with $1,000 in cash.
But Concepscion clearly held her own and, most importantly, came away injury-free. She said the key was punching the spineless reprobate in the balls. "I hit him in his private area," she explained to reporters. "I don't know how he didn't cut me anywhere."
Was Concepscion wrong for jeopardizing her life over a few bucks?
Watch the fight in its entirety.
Share your thoughts.