Kevin Hart faces lengthy recovery.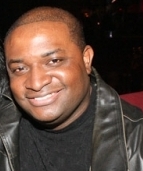 Blog King, Mass Appeal
MALIBU, Cali — It's gonna take awhile. But Kevin Hart is expected to make a full recovery from back surgery, this according to his wife Eniko Parrish. The diminutive comic nearly lost his life in an ugly automobile accident early Sunday morning in Malibu, California. Medical professionals said Kevin will have to undergo months of convalescence and physical therapy before he's even close to 100 percent. According to police reports, Kevin was riding shotgun in his 1970 Plymouth Barracuda with his wife's personal trainer — Rebecca Broxterman — and her fiancé Jared Black, who was driving.
While traveling at high velocity, the vintage vehicle flipped over a guardrail and ended up in a ditch off Mulholland Highway — a steep road that winds through Hollywood Hills. A gimpy Kevin, 40, was able to egress the jalopy and seek medical assistance while Rebecca and Jared were pinned inside.
After emergency workers sawed off the roof, Jared was airlifted to UCLA Medical Center. Rebecca suffered a few bumps and bruises. There were apparently no intoxicants involved. But speeding could've caused the ruination. Witnesses told investigators they heard tires screeching before the car went boom.
What's your take?
Was Kevin the driver?
If so, does he have something to hide?
Listen to the 911 call then watch footage of the accident.
Share your thoughts below.