Suicide Squad 2 roster revealed.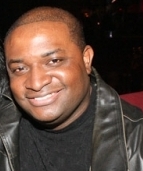 Blog King, Mass Appeal
HOLLYWOOD — After weeks of conjecture, we finally have an idea of who's in and who's out specific to the cinematic roster of DC's Suicide Squad sequel scheduled for release August 2021. Filmmaker James Gunn divulged the lineup Friday afternoon on Twitter with the caption, "Don't get too attached," which insinuates many of the newbies will be killed off before the ending credits. WWE icon John Cena, British thespian Idris Elba, comedian Taika Waititi and Scottish actor Peter Capaldi are making their SS debut.
But Gunn didn't specify their roles.
Don't get too attached. #TheSuicideSquad pic.twitter.com/uITPhrDzz2

— James Gunn (@JamesGunn) September 13, 2019
The list of returning cast members include Viola Davis (Amanda Waller), Margot Robbie (Harley Quinn), Jai Courtney (Captain Boomerang) and Joel Kinnaman (Rick Flag). Surprisingly, Will Smith (Deadshot) and Jared Leto (Joker) won't be back. Not sure why. Maybe they have better sh*t to do.
Are you excited about the sequel?
Will it top its predecessor?
Share your thoughts.