The Neighborhood makes a difference.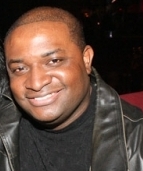 Blog King, Mass Appeal
LOS ANGELES — Season two of "The Neighborhood" premiered Monday night on CBS and, even though the show remains racist as hell, it's downright hilarious in an Archie Bunker – George Jefferson kinda way. As anchors of a variegated cast, Cedric The Entertainer (Calvin Butler), Tichina Arnold (Tina Butler), Max Greenfield (Dave Johnson) and Beth Behrs (Gemma Johnson) portray familial rivals who are intent on annihilating cultural boundaries through derogatory humor and jocularity. Jim Reynolds is the creator.
It's tradition! #TheNeighborhood is ON NOW. pic.twitter.com/ITnPWu9pUo

— The Neighborhood (@TheNeighborhood) September 24, 2019
During a recent chinwag with Matt Weiss of CBS, Tichina said the sitcom does a meritorious job of illuminating ethnic polarities while magnetizing reposeful dialogue. "I think the show is going to make its mark for years to come," she explained. "It's just a show that's going to make a lot more people socially conscience and aware about our cultural differences. We're doing it in a funny way and a way that it's palatable for everybody to digest our differences…"
"We are definitely raising a lot more [social] issues this season," Tichina continued.
"We just want to continue the integrity of the show and what it's about. Jim Reynolds, he loosely based this show upon his life because he was this white man moving his white family into this predominantly black neighborhood, that's where the idea for this show was birthed. We're talking about gentrification, we're talking about all of these social issues that we need to talk about."
Are you a fan of the show?
Should we laugh more at our cultural differences?
Share your thoughts.