Ice-T's daughter still sucks boob.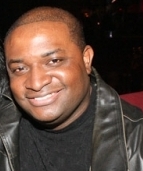 Blog King, Mass Appeal
NEW YORK — Ice-T's daughter, Chanel, is almost 4 years old. Yet, his wife Coco still pops out the mammary gland whenever the kid becomes ravenous — drawing the ire of fans on social media. Coco raised eyebrows when she posted a pic on Instagram that shows Chanel sucking her embonpoint on a private jet. The photo contains the caption "still wants the boob." Coco also said it's "more of a comfort thing" that "all mothers that nurse know." TMZ caught up with Ice-T on Wednesday at New York's Paley Center to get an elucidation.
Ice T's Wife Coco On Breastfeeding Her Daughter: Almost 4 Years Later, She Still Wants The Boob https://t.co/JmdFoeRV1N pic.twitter.com/O9XwwfZhEf

— theJasmineBRAND.com (@thejasminebrand) September 25, 2019
The "Law & Order" star said everybody should chill the f*ck out. Chanel's breastfeedings are spasmodic. "They make it [seem] like the baby only breastfeeds," explained the 61-year-old rapper. "Every once in a while [Chanel] wants to get close to her mom. That's what [kids] do. She eats food."
"She eats f*cking cheeseburgers."
Cheeseburgers?
Let's hope it's not processed meat from McDonald's.
Anyway, do you agree with Coco's decision to continue breastfeeding?
Is Chanel too old for that sh*t?
Is it Ice-T's job to siphon Coco's titties?
Share your thoughts.