Crazy chick enters lion's zoo exhibit.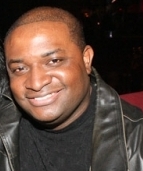 Blog King, Mass Appeal
NEW YORK — Myáh Autry (aka Queen Empress Myáh Lareé Israelite) is lucky to be alive after she climbed into an exhibit at the Bronx Zoo to dance in front of an adult male lion. The ill-advised stunt was captured on video and it's gone mad viral. Raw cell phone footage shows Myáh, 32, taunting the lion while gyrating her derrière in hilarity. "Baby! Hi, I love you," she told the cat. The feline had a confused look on his face like, "Bitch, don't you know I'm a lion?" Had it not been for a 20-foot moat that separated the two, the bearded predator would've no doubt ate her ass; not to mention the low angle of the broadcast gives the optical illusion they're standing in close proximity. Myáh shared videos of her encounter on Instagram.
She credited God for keeping her safe.
Bronx Zoo lion woman Myah Autry raps on Instagram while NYPD hunts for her https://t.co/iwzmsWTn81 via @nypmetro This chick has some serious issues!! She says she's an "herbalist" but she's obviously partaking in something other than just herbs!! #BronxZoo

— Lady LForever (@Im1SpoiledLady) October 4, 2019
"I REALLY HAVE NO FEAR OF NOTHING BREATHING‼️" Myáh gloated. "I Literally Went in his Habbitat and He did not Growl or He didn't not go into Attack Mode‼️ Why? Like All things, Even Animals know if your acting out of Love & Fearlessness… I Entered His Home in Peace & He let me Leave in Peace. MY SOUL IS PURE THIS IS WHY I MADE IT OUT."
Zoo officials, however, weren't impressed.
A citation for criminal trespass was issued.
"This action was a serious violation and unlawful trespass that could have resulted in serious injury or death," said a Zoo spokesperson in a statement. "Barriers and rules are in place to keep visitors, staff and animals safe. We have a zero tolerance policy on trespass and violation of barriers."
Shortly after the incident, Myáh shared a crazy rap video.
She's clearly gone cuckoo for Cocoa Puffs.
Myáh's friends said they're concerned about her mental health.
Watch her disturbing videos.
Share your thoughts.