49ers lineman got himself a spouse.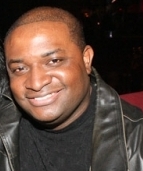 Blog King, Mass Appeal
SAN FRANCISCO — D.J. Jones, a 24-year-old defensive lineman for the San Francisco 49ers, scored two huge victories on Monday Night Football. His team pummeled the Cleveland Browns 31-3 and, prior to kickoff, he proposed to his girlfriend — Kayla Fannin — in front of family and friends and received a resounding "Yes!" The indelible occasion took place on the sideline in Levi's Stadium. The betrothal was also captured on video. The bride-to-be never saw it coming. About 2 hours before game-time, D.J. implored Kayla to gaze into the sky.
As soon as she turned her noggin, the 300-pounder got down on one knee and popped the question. The rapturous damsel went f*ckin' nuts. Seconds later, D.J. slipped a shiny new rock on Kayla's ring finger to make it official. Hell, they've been together for a few years so a proposal was imminent.
It'll be a Monday night they'll never forget.
Watch the romantic video.
Share your thoughts.