Mad airline pilot clocks co-worker.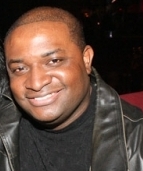 Blog King, Mass Appeal
DENVER — This week's "I F*cked Up A Good Job Award" belongs to Republic Airways pilot William Thomas, 36, and his female co-worker, Marisha Sporer, who were both fired and arrested after getting into a bout of fisticuffs on the plane. The domestic battery incident took place on September 14th during a layover at Denver International Airport. It was also captured on video. According to police reports, William and Marisha decided to sever their Ike & Tina-esque relationship while on duty. Moments later, the 29-year-old inamorata confronted William in the cockpit about something in his cell phone. That's when and all hell broke loose.
"They both agreed to break up so Thomas went onto the plane and sat in the cockpit and Sporer went to the gate," said a police spokesperson in a probable cause affidavit.
"Sporer became angry and went onto the plane to confront Thomas. Sporer grabbed Thomas by the neck tie and slapped him in the face with an open hand three times. Thomas retaliated by grabbing Sporer and striking her in the ribs with a closed fist."
William also expectorated into Marisha's countenance before punching her in the jaw. Both crew members were busted and face charges of assault and disturbing the peace. They were also terminated. Fortunately, there were no passengers on the aircraft at the time.
"We are aware of a situation that occurred last month involving two of our employees," said a Republic Airways official in a statement. "We investigated this matter and took appropriate action consistent with our belief that such behavior is unacceptable."
Even though Marisha hit him first, was William wrong for thwacking a woman?
Is it infelicitous for co-workers to date and/or sh*t where they eat?
Was the tryst ill-fated from the outset?
Watch the disturbing video.
Share your thoughts.