Will Smith talks "Gemini Man."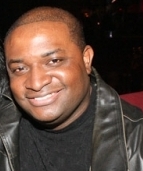 Blog King, Mass Appeal
NEW YORK — "It's just me, myself and I." Will Smith appeared on 'The Late Show with Stephen Colbert' on Tuesday to discuss his new film, "Gemini Man," and the convolution of starring opposite himself. The 51-year-old thespian portrays a veteran hitman who squares off against his adolescent clone. In other words, he's going to kick his own ass. "What he did with this film is really spectacular," Smith said of director Ang Lee. "He's trying to create a new reason for people to go to movie theaters."
When descrying the film (preferably in 3D), moviegoers will see "the first-ever 100 percent digital human" — that being the aforementioned clone who's likeness was replicated from Smith's earlier projects such as Six Degrees of Separation and Men In Black. "It's not me playing the character," the actor explained.
"It's a 100 percent digital character."
Will Smith vs. Will Smith is the action thriller that can't be missed. #GeminiMan pic.twitter.com/uRrUSQ2kcU

— Gemini Man (@GeminiManMovie) October 8, 2019
Surprisingly, Smith's 'Fresh Prince' dramatis personae wasn't even considered for cinematic duplication; mainly because Lee is not a fan of the iconic role. "For Fresh Prince, he's looking at my character and says, 'I don't want any of that in my movie,'" the actor joked.
When asked what advice he'd like to give his younger self, Smith flipped the script.
"I feel like that younger version of me, there's a certain naivety to youth that is powerful," he said. "When you don't know something, you're aggressive. I would ask my young self for advice… For the last two years, I've been trying to recapture that youthful fearlessness."
Gemini Man is now available in theaters.
Be there or be square!
Share your thoughts.