Cuba Gooding Jr. pleads not guilty.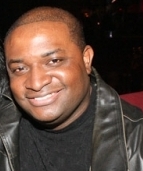 Blog King, Mass Appeal
NEW YORK — First Bill Cosby. Then R. Kelly. Now this. Cuba Gooding Jr. was arraigned in New York on Tuesday where he pleaded "not guilty" to groping women's body parts. The handcuffed thespian stood before Judge Curtis Farber for his arraignment. He was later released. Cuba, 51, was arrested in June after he allegedly touched a woman's breast at a Manhattan rooftop bar. The concupiscent actor is also inculpated on charges of 'forcible touching' and third-degree sexual abuse from a second accuser.
Another chick named Natasha Ashworth claims Cuba grabbed her ass at a soiree.
His next court appearance is scheduled for December 13th.
According to court docs, fourteen women are accusing the Oscar winner of carnal improprieties between 2001 and 2018. Their allegations include groping, squeezing, rubbing, biting, kissing, licking, genital grabbing and a partridge in a pear tree. Many, if not all, of the accusers could be sworn in to testify.
If that happens, Cuba is f*cked.
Cuba Gooding Jr. is accused of groping 14 women at bars and clubs https://t.co/Olme3d13Ev

— Variety (@Variety) October 15, 2019
One of the alleged victims claims Cuba told her to "sit on my face [and] pee in my mouth" as he fondled her succulent embonpoint. Another accuser said he clasped her thigh, reached under her skirt and caressed her vulva. The alleged crimes took place at bars, nightclubs and restaurants.
"Defendant's past behavior shows that he routinely approaches women while at bars or nightclubs with whom he has had limited or no prior interaction, and touches them inappropriately," prosecutors argued in court documents. "Looking at these instances, it is clear that the defendant's actions are intentional, rather than accidental, that he does not mistakenly believe the acts are consensual."
Do you believe Cuba is guilty?
Should negroes become more circumspect when interacting with thots?
Watch the video.
Share your thoughts.