High school coach disarmed student.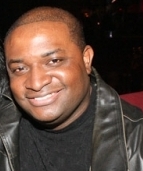 Blog King, Mass Appeal
PORTLAND — "Can't we all just get along?" Keanon Lowe, a high school football coach, is being crowned a hero after he coaxed a bellicose student out of shooting up the school. The murder-suicide attempt went down in May at Parkrose High School in Portland, Oregon. It was also captured on video. Surveillance footage released by the Multnomah County District Attorney's Office shows 18-year-old Angel Granados-Diaz bringing a loaded shotgun on campus with sanguinary ambitions. Seconds later, Keanon confronts the bloodthirsty miscreant in the hallway and proceeds to disarm his trigger-happy ass.
Not sure why Angel was pissed.
But he was ready to blow some sh*t up.
Panicked students ran out the exits.
The video also shows the coach embracing Angel for about 10 minutes before police arrived. "It was a really emotional time," Keanon said. "Emotional time for him, for me. In that time, I felt compassion for him. A lot of times when you're young, you don't realize what you're doing until it's over."
Angel pleaded "guilty" last week to gun charges and received three years of probation.
He will also undergo mental health counseling.
Do you agree with the sentence?
Should we hug each other more often?
Watch the disturbing video.
Share your thoughts.