Eddie's Dolemite straight hilarious.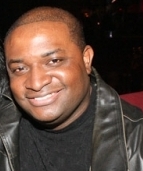 Blog King, Mass Appeal
LOS ANGELES — "Way down in the jungle deep, the bad ass lion stepped on the signifyin' monkey's feet." Yessir. Eddie Murphy's "Dolemite Is My Name" is now available on Netflix and, can't lie, it's hilarious and very well done. Gotta admit, was a little skeptical of Eddie at first. But his '70s portrayal of Rudy Ray Moore definitely passes the eye test. Co-stars Wesley Snipes, Mike Epps, Snoop Dogg, Chris Rock, Keegan-Michael Key and Craig Robinson are equally crackerjack.
But, what stands out most is Dolemite's intransigence in conjunction with the pecuniary obstacles he overcame during his improbable ascension to stardom. After putting up his royalties as collateral, Dolemite secured a handful of high-interest loans to finance his blaxploitation film.
Every Black comedian and their momma showed up to the #DolemiteIsMyName premiere. https://t.co/b4jXD2elY1

— ESSENCE (@Essence) October 25, 2019
Even though his Kung fu style of thespianism drew jaspé reviews, Dolemite's initial sex scene is must-see theater. Truth be told, dude was originally camera-shy about partaking in pornography mainly because he's a corpulent negro with a gut. So, rather than patronize a fitness center, Dolemite morphed the erotica into a comedic skit.
Here's what transpired: The director (played by Snipes) called in a voluptuous white chick with a juicy embonpoint and had her ride Dolemite's phallus while the filming crew concocted an orgasmic earthquake in the background. Like I said, it's must-see theater and funny as hell.
Again, "Dolemite Is My Name" is now available on Netflix.
Watch it ASAP!
Blog King's Rating: 5 out of 5 popcorn bags
Share your thoughts.