"Claws" star is gettin' divorce.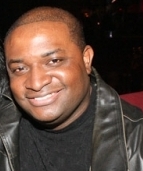 Blog King, Mass Appeal
LOS ANGELES, Cali — Niecy Nash, 49, is headed to divorce court and it may have something to do with giving an exiguous amount of blow jobs. The "Claws" star and her husband — Jay Tucker — are calling it quits after 8 years of holy matrimony. But, you should know they're severing ties on amicable terms because they're way "better [off as] friends than partners in marriage." The couple released a joint statement, saying, "As we go our separate ways now, we feel fortunate for the love we share — present tense."
— Niecy Nash (@NiecyNash) October 30, 2019
If you recall, Niecy and Jay (an electrical engineer) cemented their nuptials in front of 200 witnesses during a televised conjugal ceremony on TLC. A few months ago, Niecy disseminated some connubial guidance to fans in an exclusive chinwag with Essence Magazine.
The curvaceous actress told the girly publication, "A BJ a day keeps the divorce attorney away."
Do you agree with Niecy's oral sex reasoning?
Is daily fellatio the key to maintaining a healthy marriage?
Watch Niecy's interview.
Share your thoughts.