Cuba Gooding Jr. 'busted' on tape.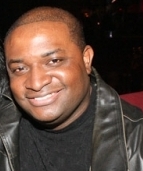 Blog King, Mass Appeal
NEW YORK — "Show me the heinie!" In a kinky development, TMZ released a new video that shows embattled actor Cuba Gooding Jr. pinching a white woman's ass at the TAO nightclub in downtown New York. The alleged booty-grab went down around 4:20 a.m. on October 28, 2018. Surveillance footage shows an inebriated Cuba clasping Natasha Ashworth's derrière with his right hand as he saunters past her. Then he backs up and appears to touch her ass again.
The two experienced a series of contretemps afterwards.
Natasha claims she told the concupiscent thespian to keep his f*ckin' hands to himself. But Cuba, 51, refused to take her warning seriously, telling her, "Aw, that's no fun, and I didn't [touch your ass], I touched your back." The "Jerry Maguire" star was recently indicted on multiple counts of sexual assault and forcible touching. Cuba has more than a dozen female accusers. Do you think he's guilty?
Is it time to smell his fingers for corroboration purposes?
Share your thoughts.