Legend is named Sexiest Man Alive.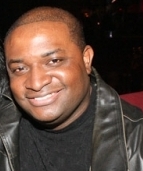 Blog King, Mass Appeal
BEVERLY HILLS — He's won an Oscar, a Grammy, a Tony and an Emmy. Now he can add one more accolade to the display case. John Legend is no longer "Ordinary People." That's because the 40-year-old singer was named People Magazine's "Sexiest Man Alive" on Tuesday — joining the ranks of Idris Elba, Chris Hemsworth and Dwayne "The Rock" Johnson. "I was excited, but I was a little scared at the same time because it's a lot of pressure," John explained when asked how it felt to achieve the deifying honor. "Everyone's going to be picking me apart to see if I'm sexy enough to hold this title. I'm [also] following Idris Elba, which is not fair and is not nice to me!"
John Legend Is PEOPLE's #SexiestManAlive 2019: 'I'm Excited but a Little Scared at the Same Time' https://t.co/qBIpYSozLf pic.twitter.com/gByepXc7dN

— People (@people) November 13, 2019
John's wife, Chrissy Teigen, agreed with the selection. She even boasted about their amorous accomplishments under the sheets. "My secret is out," Chrissy tweeted. "I have fulfilled my dream of having boned People's sexiest man alive!!! I cannot WAIT for people to get mad…"
John and Chrissy got hitched in 2013.
They have two children together.
Do you agree with the choice?
Is John the sexiest man alive?
Share your thoughts.