Cam shows love at Thanksgiving Jam.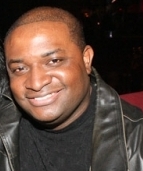 Blog King, Mass Appeal
CHARLOTTE — Cam Newton is known for donning flamboyant habiliment at weekly press conferences. He's also revered for his charitable benefactions in Charlotte, North Carolina. Despite suffering a season-ending foot injury a few weeks ago, the Carolina Panthers star hosted 1,300 kids at TopGolf on Monday for his annual "Thanksgiving Jam." It's the eighth year of the jamboree and it couldn't have come at a better time. Like many athletes on "injured/reserve," Cam is coping with life without football.
"That is what you miss the most, interacting with fans," said the 30-year-old quarterback. "It has just been a long process, but yet doing things like this can put anybody in a great holiday spirit."
Cam Newton serving Thanksgiving meals to underprivileged kids at his eighth annual 'Thanksgiving Jam' at Top Golf tonight! 🍂❤️ pic.twitter.com/zq1SldoFgc

— CLTure ( culture ) (@CLTure) November 25, 2019
"It has been a trying year for me in multiple ways," Cam continued. "But at the end of the day, being in this type of atmosphere helps you and would help anyone. This is what the holidays are really about, giving back in many more ways than one. Doing things that impact the community is just as important as your performance on the field."
After the emcee exhorted fans to strain their vocal cords, Cam proceeded to dish out sustenance while posing for selfies. One of the children even asked, "Did you make the food?"
Watch the video.
Share your thoughts.