Celeb inmates got turkey & dressing.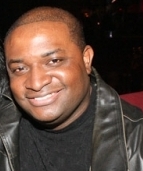 Blog King, Mass Appeal
CHICAGO — Bon appétit! TMZ obtained penitentiary menus for a quintet of incarcerated celebrities to see how they spent Thanksgiving. Ravenous inmates R. Kelly, Bill Cosby, Kodak Black, Suge Knight and Michael Cohen made the cut. All five were given turkey entrées that were accompanied by traditional side dishes. Some even had their salads tossed. But not in the manner that you're thinking. Here's the comestible breakdown: Kelly, who's serving time at MCC Chicago, ingested turkey, gravy, cornbread stuffing, cranberry sauce, dinner rolls, pecan pie and a helping of fresh fruit. Yummo! Cosby, who's locked up at Pennsylvania's SCI Phoenix, devoured roasted turkey, gravy, stuffing, whipped potatoes, green peas, cranberry sauce, dinner rolls and pumpkin pie.
The warden, however, wouldn't allow Cosby to distribute beverages.
Despite spending #Thanksgiving in prison, these celebrities are eating good tonight 🦃https://t.co/8kVNaxyGqd

— HotNewHipHop (@HotNewHipHop) November 28, 2019
Rapper Kodak Black, who's behind bars at FDC Miami, got fat on smoked turkey, dressing, macaroni and cheese, green beans, potato salad, dinner rolls and a choice of holiday pie. Former Death Row music exec Suge Knight, a podgy resident of San Diego's Richard J. Donovan Correctional Facility, had to make due with roasted turkey, seasoned chicken, salad and dressing, cranberry sauce, yams, mashed potatoes, gravy, cornbread, mixed vegetables and a choice of cake.
Last, but not least, Cohen — a former lawyer for President Donald Trump who's imprisoned at New York's FCI Otisville — chowed down on turkey roast, gravy, stuffing, baked sweet potatoes, green bean casserole, dinner rolls with margarine patties, fresh fruit and a choice of holiday pie.
Were the celebs treated well?
Who received the best meal?
Share your thoughts.