Rumor: Mr. Foxx possibly engaged.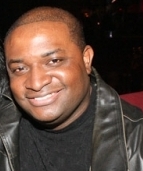 Blog King, Mass Appeal
HOLLYWOOD — "You may be young but you`re ready…" Jamie Foxx celebrated his 52nd birthday a little early Wednesday night at Warwick nightclub in West Hollywood. But that may not be all he's celebrating. Word on the street claims the "Beat Shazam" host is betrothed to his live-in inamorata, 19-year-old Sela Vave. Paparazzi caught the prepossessing teen sporting an engagement ring on her left hand during her egress from the cocktail lounge. Hope Sela wasn't drinking because she's clearly underage. Would hate to see Jamie get busted for contributing to the delinquency of a minor.
Jamie Foxx's Rumored GF Sela Vave Sparks Engagement Rumor https://t.co/FHd31Tf9f7 pic.twitter.com/GU9HIreo8G

— AceShowbiz (@aceshowbiz) December 13, 2019
Sela, an aspiring singer, moved into Jamie's Thousand Oaks mansion in August so he could help propel her music career. Because Sela's so young, Jamie secured approbation from her mother prior to moving day. Embattled vocalist R. Kelly was also granted permission from parents.
"I spoke to that girl's mom and she put her trust in me," Jamie explained in an Instagram Live video. Since unpacking her bags, Sela said she's been called a "whore, slut, homewrecker, thot, gold digger," but "it doesn't matter to me [because] I'm out here to work and do what I love most."
Jamie's daughter Corinne, 25, is six years older than Sela.
Is the alleged engagement appropriate?
Is she too young for him?
Will Sela use Jamie and purloin his savings?
Share your thoughts.