Good Times is 'coming back.'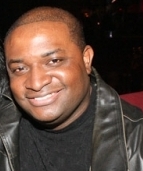 Blog King, Mass Appeal
LOS ANGELES — Everything is "Dy-no-mite!" After a 40-year hiatus, "Good Times" is returning to network television. Officials at ABC Studios announced the cast for "Live in Front of a Studio Audience: Good Times" on Thursday. The ghetto-based sitcom will feature Oscar winner Viola Davis in the schmaltzy role of Florida Evans. Andre Braugher will portray her jinxed husband, James Evans. Ex-Saturday Night Live comic Jay Pharoah will star as goofy J.J. Evans. Asante Blackk will play juvenile scholar Michael Evans.
Jamie Foxx's daughter, Corinne Foxx, will fill the part of hopeless romantic Thelma Evans and upstart comedienne Tiffany Haddish will mimic gossiping neighbor Willona Woods.
Viola Davis, Andre Braugher, Tiffany Haddish, Jay Pharoah, Asante Blackk & Corinne Fox Join ABC's Good Times Live Special https://t.co/LC8iZPuNMC pic.twitter.com/CCxa6Be7hd

— Reel Talk Inc. (@ReelTalkInc) December 12, 2019
The 'Live in Front of a Studio Audience' series will be produced by Kimmelot, ACT III Productions, Gary Sanchez Productions, D'Arconville, Simpson Street, and Sony Pictures Television. The executive producers are Norman Lear, Jimmy Kimmel, Brent Miller, Kerry Washington, Will Ferrell, Justin Theroux and Jim Burrows. Pam Fryman and Andy Fisher will serve as directors.
"Good Times" is a classic. It'll be interesting to see what type of issues are addressed. If you recall, the Evans family went to war with those who sought to animalize the ghetto; namely bone-crushing pimp/loan shark Sweet Daddy Williams, Lootin' Lenny, Ned the Wino and the Junior Warlords.
Today, those type of amoral personalities are socially-accepted and often glorified.
Sh*t, pimps and gangstas receive VIP treatment in the new millennium. Case in point, Jay-Z was a cocaine dealer who used drug money to finance his record label. Now he's filthy rich, adored by millions and part owner of an NFL franchise. Diddy is just as dirty. Ditto for Snoop, Dr. Dre and countless others.
In other words, this ain't the '70s.
Times have changed.
That said, are you excited about the reboot?
Is it sagacious to depict a black family in the ghetto this day and age?
Are you enamored with the cast?
Share your thoughts.