Elderly tenant shoots manager.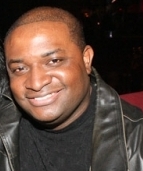 Blog King, Mass Appeal
LAS VEGAS — Law enforcement officials with the Las Vegas Metropolitan Police Department have released jaw-dropping footage that shows 93-year-old tenant Robert Thomas shooting his apartment manager. The sanguinary ordeal went down on January 2nd. Surveillance footage shows Thomas — who's donning a black coat and Al Capone hat — storming into the maintenance office to bitch and complain about his apartment being flooded. Then, following a series of contretemps, Thomas pulled out a Glock 9mm and fired a warning shot — prompting the secretary to egress the building to seek succor.
Seconds later, Thomas shot the manager in the leg; causing him to crumple to the floor like a lil bitch. After allowing the mewling employee to writhe in agony, the decrepit gunman shot him in the other leg. A police officer eventually showed up screaming "drop the gun!" Thomas calmly placed his Glock on the manager's desk as the cop fired a shot through the door, shattering the glass.
The old man was tackled to the ground shortly after.
Thomas faces charges of attempted murder with a deadly weapon, kidnapping with a deadly weapon, discharging a firearm within a structure, burglary with a firearm and carrying a concealed weapon. The gangsta grandpa showed no compunction during his arrest and he told investigators he would do it again. He also said he didn't intend to kill the worker, he just wanted to "mess him up a little."
The manager was hospitalized with non-life-threatening injuries.
Thomas had his old ass thrown in jail.
Moral of the story: Don't f*ck with the elderly because they ain't got sh*t to lose.
Watch the disturbing video.
Share your thoughts.