Martin opens up about past drama.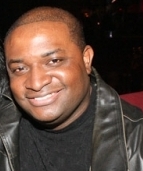 Blog King, Mass Appeal
LOS ANGELES — After biting his tongue for 23 years, Martin Lawrence finally let the cat out the bag. During a recent chinwag with GQ Magazine, the 54-year-old comedian revealed he sauntered away from his hilarious '90s sitcom "Martin" after his television wife — Tisha Campbell — accused him of sexual harassment. When asked why he decided to deep-six the comedy after 5 successful seasons, Martin replied: "It was just time to end. None of that was true. It was all a lot of bullsh*t." If you recall, Tisha filed a lawsuit against Martin in 1997 which culminated with her leaving the show.
Rumor has it he groped her derrière and fondled her embonpoint without approbation. Tisha was ultimately sued by producers for breach of contract. As a stipulation of her return, Tisha agreed to film her scenes in a sequestered locale away from Martin. She couldn't stand being on the same set as his ass.
.@realmartymar talks #BadBoys, his hit '90s sitcom, and re-entering public life for the first time in years https://t.co/Us8YrCWkaa

— GQ Magazine (@GQMagazine) January 6, 2020
That said, Martin was on some sh*t back then. Hell, it was probably heroin. In May 1996, a deranged Martin ran into the middle of the street with a gun and started screaming at oncoming cars. Then, in August 1996, he was arrested for carrying a loaded firearm inside a suitcase at Burbank Airport.
But that was then and this is now.
Martin and Tisha, 51, have made amends and there's been zero dialogue about what transpired in the past. "We don't need to talk about something that just didn't happen," Martin explained in reference to sexual harassment. "So I just decided to walk away from the show. I just decided to end it. People said that I got canceled, but that wasn't the case. I decided to just leave the show."
"I love Tisha," Martin continued. "I've seen her then and now, now and then, always with nothing but love. I have nothing but love for her, and I always have."
"Martin" aired from 1992 to 1997.
The show drew 12 million viewers during its inaugural season.
Would you like to see a reboot?
Is Martin telling the truth?
Or, did Tisha make that sh*t up?
Share your thoughts.