Chicago Pastor caught stealing.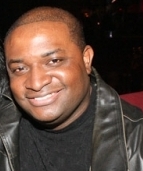 Blog King, Mass Appeal
CHICAGO — This week's "I F*cked Up A Good Job Award" goes to Chicago Pastor Clarence Smith Jr. who had his black ass thrown in jail for purloining roughly $1 million from a federal sustenance program for penurious children. Then, to compound matters, the negro bought himself a brand new Bentley for $142,000 along with several pairs of Air Jordan shoes. Meanwhile, kids remain hungry. "He was coming around in Jordans and Bentleys and new cars," said church member Ravin Cosey.
"And I'm like, 'Wait a minute, pastors don't do that.'"
Um, yes they do… more than you realize.
Chicago pastor charged with bilking federal program to feed needy kids. They need to put this pastor in jail and throw away the key, let him starve a few days as well! Who would steal from a needy child? A GREEDY PERSON! https://t.co/KkpFOsuaoa

— Republican Feminist (@SATXRepublican) January 11, 2020
Hell, many of today's ministers are nothin' but a bunch of greasy, Popeyes chicken eating, money laundering, tax evading, womanizing swindlers with zero morals. Rather than concoct expenditures to feed ravenous children, Pastor Smith allegedly deposited the mazuma into his personal bank account.
Thievin' bastard!
Now he faces four counts of fraud and one count of being a dumbass.
Pastor Smith, formerly of New Life Impact Church, pleaded "not guilty" in federal court.
"I totally deny any and all allegations of fraud," he told reporters.
"I've served the community for years and will let this play out in court."
Do you think he's guilty?
Can clergymen be trusted?
Share your thoughts.