Keke Wyatt has newborn No. 10.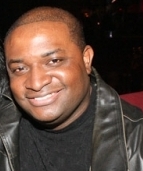 Blog King, Mass Appeal
ATLANTA — Call her fertile. But Keke Wyatt has just as many kids as Eddie Murphy. The 37-year-old R&B singer and her husband Zachariah Darring welcomed a bouncy baby boy to the world last week. It's their first child together, but Keke's tenth. On Sunday, the fecund wifey shared a photo of the neonate via Instagram with the caption: "My husband Zachariah and I are blessed to welcome our beautiful and healthy 7 pound, 11 ounce son, Ke'Riah Darring. He came to our family on 1/6/2020. #GodIsGood."
Singer Keke Wyatt has welcomed baby no. 10! https://t.co/NbgBa0fjNQ

— Us Weekly (@usweekly) January 13, 2020
Keke, if you recall, revealed news of her gestation back in October by posting a maternal photo shoot to show off her big ass baby bump prior to accouchement. The curvaceous singer also shared an image that shows her cradling her tummy while chillin' in a bathtub full of rose petals.
"My husband Zachariah Darring and I are so happy to announce that we are expecting our new bundle of joy," she wrote. "We are excited to welcome the 10th addition to our beautiful family." Keke and Zachariah got hitched last year following her divorce from ex-hubby Michael Ford with whom she shares eight children. She has one more child from her previous marriage to Rahmat Morton.
Are you happy for Keke?
Is it time to get her tubes tied?
Or, is it cool to be barefoot and pregnant?
Share your thoughts.