Delonte West is having problems.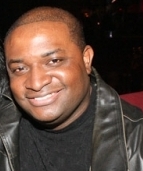 Blog King, Mass Appeal
WASHINGTON — The basketball community is in shock after a pair of videos went viral Monday afternoon that shows former NBA guard Delonte West getting his ass kicked in the middle of the street by a middle-aged white dude. Then, while handcuffed, a homeless Delonte is seen cussin' out a police officer. He also appears to have several teeth missing. A damn shame. "I don't give a f*ck," he screamed repeatedly. The disturbing ordeal went down in Washington, D.C. which is Delonte's hometown. After starring at Saint Joseph's University, Delonte was selected 24th overall by the Boston Celtics in the 2004 NBA Draft.
In 2008, the 36-year-old baller revealed he was diagnosed with a bipolar disorder.
Delonte also had a dalliance with LeBron James' mother.
His career has gone downhill ever since.
In 2010, Delonte pleaded guilty to a pair of weapons charges. Six years later, the embattled miscreant showed up at a Houston-area "Jack in the Box" lookin' like a crackhead. Jameer Nelson, Delonte's ex-teammate, and former Saint Joseph's coach Phil Martelli are looking to get Delonte some help.
Is it time for the NBA to step in?
Are narcotics to blame?
Watch the sad footage.
Share your thoughts.