KU and K-State spice up rivalry.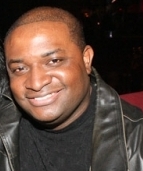 Blog King, Mass Appeal
LAWRENCE — The Sunflower Showdown became the Sunflower Throw-down on Tuesday. That's when a massive brawl broke out on ESPN between the Kansas Jayhawks and the Kansas State Wildcats towards the end of KU's 81-60 victory at Allen Fieldhouse. All hell broke loose when Kansas forward Silvio De Sousa got stripped midcourt by K-State's DaJuan Gordon in the closing seconds. A pissed off De Sousa ran down the floor, blocked Gordon's layup attempt, then stood over his ass to show off.
Both benches cleared.
A bout of fisticuffs quickly ensued.
What's sad is the melee was the most engrossing aspect of the game.
Mainly because college basketball has sucked for years. Coaches place so much emphasis on defense, student-athletes have forgot how to shoot. Fast breaks no longer exist. Final scores are typically in the 50s and 60s, and the winner is usually the squad that shoots the fewest bricks.
It's a sh*tty product and fans should think twice before purchasing tickets.
The NBA is 100 times better.
I digress.
Back to the topic of convo.
The skirmish spilled into the disabled seating section behind K-State's basket as handicapped fans ran for cover. At one point, De Sousa picked up a chair with felonious intent. He wasn't alone. KU center David McCormack stomped a dude silly as KU coaches Bill Self and Jerrance Howard rushed in to conciliate. Local police officers also intervened. A capacity crowd of 16,300 cheered the fracas.
This is what happens when you remunerate Snoop Dogg and strippers to perform on campus.
"Absolutely sickening, unbelievable. In my 40 years in TV, I haven't seen anything like that," said ESPN analyst Dick Vitale. "I think there's no doubt in my mind that De Sousa should never, ever put on a uniform again in college basketball. He's holding a chair. That's criminal. He's gonna hurt someone!"
A ban? Really Dick?
In 1985, Indiana head coach Bob Knight threw a chair at a referee and he wasn't banned.
Hell, hockey players kick each other's asses all the time and they're still allowed to play.
Ditto for baseball players.
So why single out De Sousa?
Anyway, watch the fight.
Share your thoughts.