Drunken granny murders her help.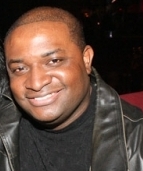 Blog King, Mass Appeal
HOUSTON — Diawannah Corteasher Thomas, 54, had her drunken ass thrown in jail after she accidentally killed an accomplice during a burglary attempt. The felonious ordeal transpired in Houston, Texas on January 21st. It was also captured on video. Raw footage shows the inebriated granny parked outside a liquor store in a U-Haul truck while her co-conspirators burglarized the venue. After purloining several cases of intoxicants, the villainous trio leaped into the vehicle and Diawannah drove off.
Police showed up seconds later and a high-speed chase ensued.
One of the miscreants jumped out the truck to escape only to get pancaked by the rear tires on the passenger side — killing him instantly. Diawannah continued to zigzag through traffic until she intentionally crashed into a police cruiser with two cops inside.
Fortunately, no officers were hurt. Diawannah was arrested and charged with murder, aggravated assault of a police officer, and driving while intoxicated. She's lookin' at a million years behind bars. The other two suspects were also booked and charged. Must admit, I'm not surprised.
With a moniker like Diawannah, you're destined for imprisonment.
Watch the disturbing footage.
Share your thoughts.