Raven-Symoné is drawin' headlines.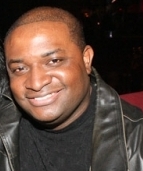 Blog King, Mass Appeal
NEW YORK — Former Disney starlet Raven-Symoné, lead actress of the hit TV sitcom "That's So Raven," raised eyebrows on Valentine's Day when she disseminated an Instagram photo shoot that insinuates she's now a male. In the gallery, the 34-year-old thespian is rockin' a buzz cut while being decked out in an orange and neon green ensemble with white tennis shoes. Raven looks butch as hell. It's probably safe to assume she's transgender. "Showed up to work early and loud as hell! Haha! #33000 #33000raven #33000infrasounds #infrasounds," she wrote.
"33000" is Raven's new music album.
Raven Symone baby what is you doing?! Go back to being a cheetah girl 👇🏾🙅🏽‍♀️ pic.twitter.com/YT5dxMLdVb

— Girls ONLY 🙈😏🌈 (@TeamLesbian9) February 14, 2020
Fan reaction, as you'd expect, was ambivalent. One user wrote, "You are beautiful my diva you don't need to care for opinions of people who are unloved and who have nothing to do you and you don't need to change because you don't change will not be my race I love you that way my diva😍👏👏👏."
Huh?
A second fan chimed in with, "Raven Symone baby what is you doing? Go back to being a Cheetah Girl!"
A third user added, "She's so Raven! Real Raven! Too Raven…this will end…poorly." Raven has been an LGBTQ constituent for years. But, until now, her gay status was primarily abstruse as to which contingent she belongs to. At first, she claimed to be bisexual. Then she referred to herself as a lesbian.
Now she appears to be a tranny.
Are you happy for Raven?
Does she look better as a man?
Share your thoughts.