Public Enemy fires Flavor Flav amid beef stemmin' from Bernie Sanders campaign
Public Enemy says "goodbye" to Flav.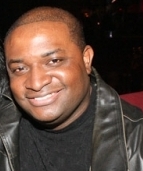 Blog King, Mass Appeal
LOS ANGELES — They used to "Fight the Power." Now they're belabouring each other. Flavor Flav is no longer a member of Public Enemy. That's because the group has decided to ostracize his crusty black ass. Flav was jettisoned Sunday night after he issued a cease-and-desist missive to presidential candidate Bernie Sanders for incorporating his image and likeness into a damn campaign rally. All hell broke loose when Sanders disseminated a promotional banner that shows him holding a microphone to the sky with the idiom "Fight the Power" at the top.
Los Angeles. See you on Sunday. pic.twitter.com/7EtAvh2aZc

— Anna Bahr (@anna_bahr) February 27, 2020
Team leader Chuck D is an avid supporter of Sanders so a severance was inevitable. The hip hop posse released the following communiqué: "Public Enemy and Public Enemy Radio will be moving forward without Flavor Flav. We thank him for his years of service and wish him well."
The disbandment is hardly a surprise. Flav and Chuck have been beefin' for years; ever since the 60-year-old rapper sued Public Enemy in 2017 for royalties, merchandise earnings and emolument he claims belongs to him. Are you disheartened by the break up? Can the group survive without Flav?
Do you envision an armistice?
Share your thoughts.