Tiffany Haddish releases video.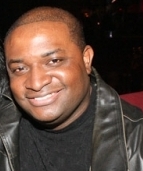 Blog King, Mass Appeal
LOS ANGELES — Tiffany Haddish is much more than a loudmouth comedian. She's also a twerkin' rapper. Social distancing be damned, the 40-year-old humorist released her new rap video "Come And Get Your Baby Daddy" on April Fools' Day and it's ratchet as hell. The Girl Power conception was directed by Chris Robinson. "She Ready Records" is the producer. "This n*gga got like ten kids and no car. Talkin' about he a rap star," Tiffany rapped as a mob of sexy chicks backed her up.
"Be in all the clubs lookin' bankrupt. Tiff Tiff lookin' she held the bank up!"
Joining Tiffany on the set is diminutive actress Bresha Webb from Tyler Perry's "A Fall From Grace."
Watch the video.
Share your thoughts.