Tracy Morgan elucidates sex.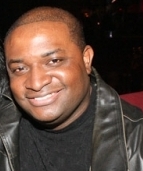 Blog King, Mass Appeal
NEW YORK — "Let's talk about sex, baby!" Tracy Morgan and his wife, Megan Wollover, have espoused a somewhat sanguine approach towards the "Stay-At-Home" order. Rather than wallow in angst over the novel coronavirus, the amorous lovebirds are engaging in bouts of feral copulation and, get this: it involves role-play. Tracy disclosed libidinous details Tuesday morning during an appearance on the "Today Show." Talk show host Hoda Kotb filmed the chinwag from her New York City residence.
It's never a dull moment when @TracyMorgan is on! Watch the full interview with the comedy star who talks about coronavirus and dealing with the unknown, "We all got to pull together as people," he says. pic.twitter.com/nVG8DjAxg2

— TODAY (@TODAYshow) April 7, 2020
"Me and my wife been quarantining it for like three weeks, so she's pregnant three times. Every week she got pregnant," boasted the 51-year-old comic which caught Hoda off guard. "We're role-playing. She's playing a young maiden whose grandfather was infected with coronavirus, and I'm the scientist who discovered the cure. And she'll do anything to save her grandfather's life — and I mean anything."
Um… ok… TMI?
Tracy also lauded President Donald Trump's handling of the COVID-19 pandemic and he plans to have his pet sharks and gorilla tested for COVID-19. Many viewers were in the midst of repast during the Q&A and some were completely grossed out. Just the thought of Tracy having sex is nauseating in itself.
One Twitter user wrote: "I love Tracy Morgan but even i know you don't put him on live TV when the church folks are eating breakfast."
Tracy and Megan have four kids, yet they're still f*ckin' like rabbits.
Was the interview inappropriate?
Would Hoda been justified in switching to a commercial?
Watch the chat.
Share your thoughts.