Stacey is gettin' fourth divorce.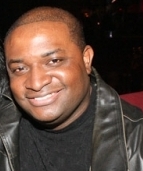 Blog King, Mass Appeal
TAMPA — Stacey Dash, lead actress in the VH1 series "Single Ladies," is a single lady once again. The 53-year-old thespian and her husband, Jeffrey Marty, are calling it quits after 2 years of holy matrimony; making it Stacey's fourth divorce. The "Clueless" star made the announcement Thursday via Instagram. "My husband and I have made the hard decision of ending our marriage," Stacey wrote. "After much prayer, I feel this is the right path for both of us. I wish him nothing but the best. Thank you everyone for your support and [for] respecting our privacy during this difficult time."
The cessation comes on the heels of a nasty domestic violence incident last year that culminated in Stacey's arrest.  She reportedly kicked Jeffrey's ass inside their humble abode in Tampa, Florida. Afterwards, a barefoot Stacey was handcuffed and thrown inside a police squad car. The shameful ordeal was captured on video and released by TMZ. Stacey was lucky to elude litigation.
Jeffrey, who's a lawyer, refused to press charges.
"No charges were pressed by her husband," a rep from Stacey's camp said in a statement. "However, deputies arrested Ms. Dash peacefully, as a formality. Ms. Dash's husband appeared in court today, September 30th, on her behalf and Ms. Dash was released from the Land O' Lakes detention facility. No further legal action is pending."
"The marital dispute, while personal and unfortunate, has since been blown out of proportion," the statement continued. "An earlier report on TMZ.com said her manager told TMZ that she was attacked by her husband — both the sources relationship to Ms. Dash and the events of the evening were misrepresented."
In addition to her 4th failed marriage, Stacey is dead broke.
She's selling videos of herself for $50 at cameo.com/staceydash.
Do you feel sorry for Stacey?
Should she pursue a 5th marriage?
Watch the arrest.
Share your thoughts.