Earl Thomas got caught cheating.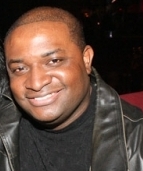 Blog King, Mass Appeal
AUSTIN, Texas — Baltimore Ravens safety Earl Thomas damn near got his brains blown out… by his wife. According to TMZ, the 31-year-old defensive back is lucky to be alive after Nina Thomas held a loaded 9mm Berreta less than a foot from his cranium after she caught him cheating with a pair of sexy paramours. Nina wasn't bullsh*ttin' either. Her finger was on the trigger and the safety was disengaged. After thwacking Earl on the nose, Nina pointed the firearm at his harem and yelled, "I got something for all you hoes!"
When Earl wrestled the gun away, Nina grabbed a machete and chased his ass down the street. Rumor has it Earl hasn't run that fast since his rookie year. The dalliance transpired around 3:40 a.m. on April 13th at an Airbnb seraglio in Austin, Texas. That's where officers "observed a black female wearing an orange sweater with a knife in her hand [later identified as Nina Thomas] chasing a shirtless black male [later identified as Earl Thomas] with a pistol in his hand around a vehicle."
Both Earl and Nina were ordered to "get on the ground" at gunpoint.
Ravens safety Earl Thomas says in an Instagram post tonight that TMZ will have a report on an "altercation" between him and his wife, Nina, on Thursday.

"Stuff like this happens, bro. We're trying to live the best life we possibly can, but sometimes it doesn't go as planned." pic.twitter.com/PLavo2nmk3

— Jonas Shaffer (@jonas_shaffer) May 7, 2020
During interrogation, a jilted Nina told investigators she infiltrated her husband's Snapchat account and saw him "naked in bed with other women." She also descried his locality using GPS. Nina then snatched Earl's gat and called up two of her girlfriends to accost his ass. Nina was handcuffed and booked for burglary of a residence with intent to commit aggravated assault with a deadly weapon.
Her BFFs were arrested too.
Once word got out, Earl disseminated a video via Instagram Live on Wednesday clamoring public succor. "Instead of talking about us, just keep us in y'all prayers," he said. "Stuff like this happens. We try to live the best lives we possibly can. Sometimes it doesn't go as planned." 
Earl's brother, Seth Thomas, was also at the residence participating in the orgy.
He and Earl enjoyed coitus with the same chicks.
Ugh! That's disgusting!
Earl and Nina got hitched in 2016.
They have 3 children together.
Will Earl cheat again or has he learned his lesson?
Share your thoughts.