Porn Video: George Floyd 'banged' Kimberly Brink$
George Floyd is pornstar legend.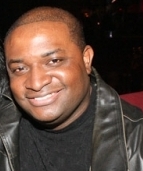 Blog King, Mass Appeal
HOUSTON — George, you nasty devil you! George Floyd, the black ex-con asphyxiated by white police officer Derek Chauvin, was a pornstar and gang member prior to using counterfeit dollar bills to purchase cigarettes. And his most recent copulation was featured in a low-budget adult film. 12-minute footage from "The Habib Show" shows an inebriated Floyd fingering a voluptuous popsy named Kimberly Brink$ before venturing downtown to slurp her depilated vulva. Bon appétit! A few minutes later, the concupiscent gigolo starts bangin' Kimberly doggystyle — causing the braided damsel to howl relentlessly. "Boy, she got some good p*ssy," Floyd says in the video. Other acts of foreplay include warm oil on the derrière, a bosom lick and a massive blow job. Oh well, at least Floyd went out with a bang (literally).
Chauvin, who's on suicide watch, is charged with murder and manslaughter. Three other officers were also indicted. Chauvin's wife, Kellie, filed for divorce shortly after the choke video went viral. Rumor has it Floyd and Chauvin once worked together and have known each other for years. Floyd also served time in prison for drug-related offenses and he once put a gun to the abdomen of a gravid woman (Aracely Henriquez) during a home invasion. Does his criminal history warp your opinion of the case?
Watch "Floyd the Landlord" get his freak on with Kimberly Brink$ in a 3-part series.
Share your thoughts.