Marlon scores a Ménage à trois.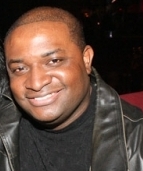 Blog King, Mass Appeal
LOS ANGELES — "What a beautiful chocolate man!" Social distancing be damned, Marlon Wayans — lead actor in the 2004 action comedy "White Chicks" — was spotted picking up a pair of prepossessing chicks over the weekend and who can blame him? After all, Marlon — a father of two — has been divorced 7 years. That's a long time with no p*ssy. Here's what happened: The 47-year-old comic was busy procuring a curbside entrée at a Los Angeles bistro when two popsies — a sexy blonde and a voluptuous Latina — showed up. All three donned face masks for coronavirus purposes.
After a few minutes of laid-back colloquy, Marlon and the ladies made an egress together.
Word on the street claims they enjoyed coitus via Ménage à trois.
Still no word on if Marlon has a significant other. But the coronavirus pandemic has taken its toll on cohabitants and married couples in particular. Since COVID-19 went into effect, divorce filings and domestic violence cases are up. Gestation rates and marriage proposals are down.
Marlon is catching hell on Black Twitter for bangin' thots outside his race.
Does skin pigmentation matter?
Should threesomes be sanctioned during a pandemic?
Share your thoughts.