Shemar Moore biracial & proud.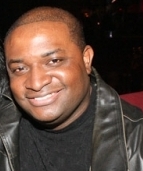 Blog King, Mass Appeal
LOS ANGELES — "Ebony and Ivory live together in perfect harmony…" As jeremiads remain cacophonous in response to the police-involved murder of George Floyd, "Criminal Minds" star Shemar Moore is makin' it clear he's proud to be black. But he's also elated to be white. That's because Shemar's mom, Marilyn Wilson (who recently passed away), is of Irish and French-Canadian descent and his dad, Sherrod Moore, is 100% African American. Shemar, 50, gave an elucidation of his biracial parentage while protesting police brutality in downtown Los Angeles.
"I am half black, and I am half white," explained Shemar, a native of Oakland. "I am proud to be black, but I am also proud to be white. I understand what it is to be treated like a n*gga when I don't have my fame and when I'm in the wrong place at the wrong time, and nobody knows who I am.
"Then I'm just a n*gga in the street."
"I've been thrown down on the sidewalk in my lifetime," Shemar continued. "I understand what [racism] is. I haven't gone through the George Floyd situation. I have not gone through that, but I know what it is. But I'm not gonna denounce the other side of me, because I'm looking at humanity."
Floyd, an African American father of five children, was asphyxiated to death by Minneapolis police officer Derek Chauvin in broad daylight on May 25th and the heinous crime was captured on video. Cell phone footage shows Chauvin, who's white, genuflecting on Floyd's scruff for nearly 9 minutes.
His last words were "I can't breathe" — à la Eric Garner.
Can you relate to Shemar's predicament?
Do biracial people have it the hardest?
Share your thoughts.