Instagram model twerks for peace.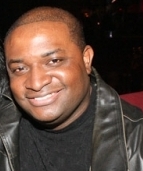 Blog King, Mass Appeal
LOS ANGELES — "Girl, you looks good, won't you back that azz up!" Instagram model PhyVe-'Nellie is catching hell on social media after she twerked for police officers during a "Black Lives Matter" rally. The gyration transpired at night in downtown Los Angeles. It was also captured on video. Cell phone footage shows PhyVe-'Nellie droppin' it like it's hot in the middle of the damn street as a fraternity of concupiscent cops ogled the booty while sedentary inside their patrol vehicles. A passerby also shows up to smack her on the ass. While performing, PhyVe-'Nellie is donning a "Black Lives Matter" t-shirt coupled with a pink thong that exposes her voluptuous butt cheeks.
The ostentatious damsel received hundreds of incensed messages on her Instagram page. Many users believe PhyVe-'Nellie tried to upstage the movement while others are accusing her of 'clout-chasing.' When asked to elucidate upon her lewd deportment, PhyVe-'Nellie said she was hoping to make a difference.
She also claims eroticism is her way of protesting peacefully. "You see people twerking and dancing and getting along, that is a culture of pride," PhyVe-'Nellie ranted on Instagram Live. "We are trying to express our sexuality without being killed for it… F*ck you! You don't know the culture." 
PhyVe-'Nellie is a freak.
There's an image on her "Pussyville" Instagram page that shows her being spanked by a Latino man.
Watch PhyVe-'Nellie shake her ass for a good cause.
Share your thoughts.