Raven-Symoné legally married.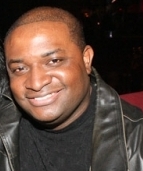 Blog King, Mass Appeal
LOS ANGELES — "I's married now!" Sorry single ladies. It's too late. Raven-Symoné, former co-host of "The View," is officially off the market. That's because the lesbian actress married fiancée Miranda Maday, 28, in a secret ceremony earlier this week. They're now wife and wife. Raven, 34, shared a wedding photo via Instagram on Thursday with the caption: "I got married to a woman who understands me from trigger to joy, from breakfast to midnight snack, from stage to home. I love you Mrs. Pearman-Maday! Let's tear this world a new asshole!!!" The "That's So Raven" star's full name is now Raven-Symoné Christina Pearman.
The interracial marriage comes during a time of vehement protests against racial injustice and systemic oppression against African Americans. That probably explains why the monochrome lovebirds decided to cement their nuptials privately. "Thank you to all those who helped and for those who understand why it was small during this time," Raven wrote.
The "Cosby Show" alum, if you recall, came out the closet in 2013 after the U.S. Supreme Court bulldozed legislation barring federal acknowledgment of same-sex marriage. "I can finally get married! Yay government! So proud of you," she tweeted in celebration.
Raven knew she was gay at the early age of 12.
But she's yet to consider herself homosexual.
"I don't want to be labeled gay," she told Oprah Winfrey in 2014.
"I want to be labeled a human who loves humans."
Are you happy for Raven and Miranda!
Should they adopt children?
Share your thoughts.