Public Enemy releases track.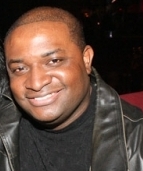 Blog King, Mass Appeal
NEW YORK — They're almost senior citizens but they're back! In 1988, Chuck D and Flavor Flav — iconic members of Public Enemy — protested police brutality and racial injustice with their hit rap single "Fight the Power." Now, 32 years later, they're at it again. The hip-hop pioneers released a searing anti-Trump track on Juneteenth titled "State of the Union (STFU)" which contains besmirching lyrics labeling President Donald Trump a "White House killer" and "Nazi Gestapo Dictator."
To be candid, the '80s rap duo rip President Trump a new asshole for roughly 3 minutes.
The hook goes: "State of the Union, shut the f*ck up! Sorry-ass mothaf*cka, stay away from me!"
Chuck, 59, and Flav, 61, also drop bars imploring voters to "end this clown show" in the upcoming election. "Whatever it takes, rid this dictator," Chuck raps. "POTUS my tail, ass debater. Prime-time Preemo, rhyme-time crime. Like no other in this lifetime. White house killer, dead in lifelines.
"Vote this joke out, or die tryin.'"
DJ Premier of Gang Starr produced the track.
Watch the new video.
Share your thoughts.