Has Ja Rule hit "rock-bottom?"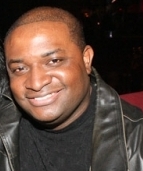 Blog King, Mass Appeal
LOS ANGELES — Rapper Ja Rule is penurious. That's what everybody's saying after he made a low-budget commercial for Papa Cristo's Greek Deli in Los Angeles. Curtis "50 Cent" Jackson, Ja Rule's nemesis, leaked the video on Instagram with the caption: "This is what happens when you f*ck with me, I'll have you and your whole label selling Gyros. Go ahead try me!" Donning a black "I Love Greece" t-shirt, Ja Rule opens the advertisement lauding the edible potency of the bistro's sustenance.
"Papa Cristo's [food is so good] it makes you wanna slap your momma!" he proclaimed. "Papa Cristo's got the best mothaf*ckin' gyros you ever f*ckin' ate in your life!" Ja Rule then mortifies himself while attempting to articulate a handful of Grecian entrées on the menu.
Sh*t, his next project should entail "Hooked On Phonics"
It's one of the saddest things you'll ever see.
"Come on down to Papa Cristo's. You can't even pronounce the food it's so goddamn good," he cracked. The 44-year-old lyricist wraps up the commercial by blurting out the address of the ma-and-pa delicatessen located at 2771 W. Pico Blvd. He even concocted some choreography for the urban eatery.
"Papa Cristo's, whew, makes you wanna do the dance," he said while shaking his broke ass for the camera.
Ja Rule has manufactured several hit records and he starred in the original "Fast and the Furious."
Has he hit rock-bottom?
Watch the dirt cheap conception in its entirety.
Share your thoughts.