Chadwick Boseman rushed to hospital.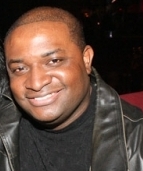 Blog King, Mass Appeal
SANTA MONICA — Looks like Wakanda could use a few fast food restaurants because somebody's in dire need of weight gain. In case you didn't know, Chadwick Boseman was recently fired from "Black Panther" and the tensity has apparently imposed a worrisome detriment to his avoirdupois. The 42-year-old actor was expedited to the emergency room in a wheelchair on Friday with an undisclosed malady. But it doesn't take a rocket scientist to conclude he's ailing from some kind of eating disorder.
Chadwick's fiancée, Taylor Simone, noticed he was scrawnier than an anorexic Ethiopian on SlimFast and rushed him to the car. Moments later, she dropped his ass off at the Santa Monica Medical Center where a nurse promptly pushed him inside as he covered his countenance with a black face mask.
To be candid, the South Carolina native looks terrible.
In "Black Panther," Chadwick had ladies salivating over his athletic, sinewy physique. Now he looks malnourished and emaciated. Chadwick has starred in several blockbuster films; most notably the aforementioned "Black Panther," the Jackie Robinson biopic "42" and "Avengers: Endgame."
But he got into a contract dispute with Marvel director Kevin Feige and, unless he starts kissin' some ass, he'll remain ostracized (à la Mo'Nique). Rumor has it Chadwick has lost more than 50 pounds.
"Black Panther 2" is scheduled to premiere May 2022.
Will you watch sans Chadwick?
Share your thoughts.