Hawk Newsome gave ultimatum.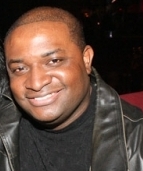 Blog King, Mass Appeal
NEW YORK — Hawk Newsome, president of the New York chapter of "Black Lives Matter," said if America "doesn't give us what we want, we will burn down this system!" Hawk issued the ultimatum during a chinwag with Martha MacCallum on Wednesday's edition of "The Story." He also gave an update on the direction of the movement in the aftermath of George Floyd's asphyxiation while handcuffed in police custody. Many of the protests, however, have turned bloody.
"You … have said that violence is sometimes necessary in these situations," Martha said.
"What exactly is it that you hope to achieve through violence?"
"Wow, it's interesting that you would pose that question like that," Hawk retorted.
"Because this country is built upon violence. What was the American Revolution? What's our diplomacy across the globe? We go in and we blow up countries and we replace their leaders with leaders who we like. So for any American to accuse us of being violent is extremely hypocritical."
Hawk said he doesn't condone violence but, as a proponent of the second amendment, he believes sometimes you gotta kick some ass to enact systemic change. "If this country doesn't give us what we want, we will burn down this system and replace it. All right?" Hawk threatened. "I could be speaking … figuratively. I could be speaking literally. It's a matter of interpretation."
"Let's observe the history of the 1960s, when black people were rioting," he continued. "We had the highest growth in wealth, in property ownership. Think about the last few weeks since we started protesting. There have been eight cops fired across the country."
Hawk then launched a juxtaposition between Jesus Christ and Dr. Martin Luther King Jr., claiming both were routinely arrested before being crucified or assassinated. "This is what happens to black activists," he said matter-of-factly. "We are killed by the government."
Yep, you heard him correctly.
Hawk said Jesus is black.
He also seeks "black liberation and black sovereignty by any means necessary."
Are you Team Hawk?
Does violence expedite change?
Watch the interview.
Share your thoughts.