Lizzo practicing physical fitness.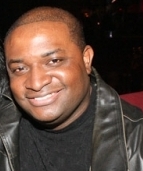 Blog King, Mass Appeal
LOS ANGELES — No more Flamin' Hot Cheetos for Lizzo. That's because she's now Vegan with an appetite for plant-based proteins. The corpulent songstress shared the vigorous news with her 8.7 million TikTok followers in a recent video with the caption: "Every journey is personal & deserves to be celebrated." In the video, a slimmed down Lizzo shares clips of her new diet which includes breakfast smoothies laced with coconut water, spinach and frozen fruit. For lunch, she ingests a variety of healthy salads while eschewing greasy Big Macs and artery-clogging fries.
"This one has kale, red cabbage, some broccoli and a slice of avocado, some white onions and some carrots," she explains while showing off the multi-hued entrée.
Lizzo, who suffers from acid reflux, has also traded in Flamin' Hot Cheetos in exchange for a vegan snack alternative. "I dip that in the hummus. Bada-boom, bada-snack!" she boasted.
For dinner, the "Truth Hurts" singer amalgamates truffle-chickpea-mushroom balls with quinoa along with leftover salad from earlier in the day. Then, for dessert, she blends a peanut butter and jelly-inspired smoothie and washes it all down with a zero-calorie Diet Coke. Lizzo, 32, works out too.
Her daily exercise routine consists of cycling and jump roping.
"It may come as a surprise to some of y'all that I'm not working out to have your ideal body type. I'm working out to have my ideal body type," she rants in the video. "And you know what type that is? None of your f*cking business. Because I am beautiful, I am strong, I do my job and I stay on my job."
Are you happy for Lizzo?
Does she risk losing her ass and embonpoint?
Share your thoughts.