Black Panthers seeking change.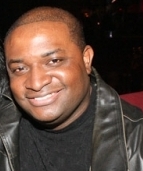 Blog King, Mass Appeal
ATLANTA — The "Black Panthers" are back and they're hunting white supremacists. Donning their signature Stygian raiments and pragmatic scowl, the heavily armed militia marched through Stone Mountain Park near Atlanta on Independence Day clamoring reparations and the obliteration of the gigantic Confederate rock effigy that's widely regarded as being a monolith for racism. The left-wing army, also known as the "Not F*cking Around Coalition (NFAC)," appears to be 200 soldiers strong.
Each comrade brandished an assault rifle and some were draped with ammunition belts. One of the leaders grabbed a loudspeaker and challenged white supremacists and rednecks to converge on the battlefield. The Ku Klux Klan and other far-right groups still have gatherings in Stone Mountain Park.
"I don't see no white militia," the Panther leader shouted.
"We're here! Where the f*ck you at? We're in your house! Let's go!"
Were the Panthers justified in exercising their Second Amendment rights?
Are we in the midst of a civil war?
Watch raw footage of the protest.
Share your thoughts.