Racist black man 'stabs' white men.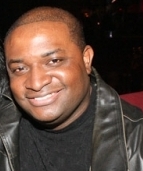 Blog King, Mass Appeal
NEW YORK — Patrick Chambers, 46, had his black ass thrown in jail during Fourth of July weekend after he went Zorro on a pair of elderly white men for no damn reason. The sanguinary ordeal transpired July 5th around 7:30 a.m. on subway train No. 7 in Queens, New York. It was also captured on video. Cell phone footage shows Chambers harassing two white men in their 70s before pulling out a machete. "Why aren't you home with your kids?" he shouts. Huh? Seconds later, the knife-wielding negro proceeds to stab the senior citizens multiple times as panicky passengers dash towards the exit.
A male rider can be heard screaming, "Get off the train!"
Chambers was arrested and jailed shortly thereafter. Investigators with the New York Police Department said the assault was racially-motivated. The bloodthirsty assailant is charged with two counts of assault, two counts of menacing and one count of criminal possession of a weapon.
Chambers suffers from mental illness.
Should he be charged with a hate crime?
Watch the disturbing video.
Share your thoughts.