Tiffany Haddish shaves her head.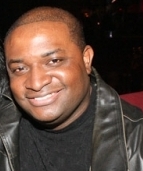 Blog King, Mass Appeal
LOS ANGELES — Thousands of shell-shocked fans are worried about the mental health of Tiffany Haddish after the 40-year-old comedienne cut off all of her hair on Instagram Live. After rocking faux locs the past couple of months during quarantine, Tiffany pulled out a pair of shears and delivered her best Britney Spears impersonation by snipping each braid one by one. "I'm gonna put this in my bible," Tiffany said referring to her severed extensions. "They say when you cut your hair off and put it in the bible, it grows back strong."
Moments later, Tiffany's BFF rushed to the store to buy a pair of clippers. A head-shaving quickly ensued. Tiffany is now bald and proud. "I cut all my hair off cause I want to see my scalp," she explained. "I know my whole body. I know where every mole is. But I don't know my scalp. So, hello scalp."
Tiffany's IG followers were quick to offer commiseration. Many are convinced the tensity of Hollywood has made her batshit crazy. One user wrote, "I mean no disrespect when I say this, but someone go check on our sister please." Another added, "She doin' Britney Spears… someone check on our sister."
Tiffany is bangin' rapper Common and she's reportedly gravid with his neonate.
Are you worried about her?
Is she cuckoo for Cocoa Puffs?
Watch the disturbing video.
Share your thoughts.