Kashmiere thrives 'against all odds.'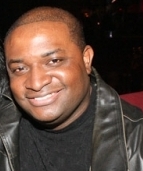 Blog King, Mass Appeal
DALLAS — Because of a rare birth defect called "Bilateral Phocomelia," Kashmiere Culberson was born without arms. But she's still more efficient than most, thanks to her ten magical toes. The 22-year-old college grad owns a catalog of inspirational videos on her YouTube channel that shows how she's adjusting to life without appendages. "I want people to see me in person and see me on YouTube and know that there's no difference," Kashmiere explained. "I just want to be myself."
On the real son, Kashmiere is a "Feast or Famine Chick."
By feast, I mean she's prepossessing with makeup on which makes a n*gga wanna feast. By famine, I mean she doesn't look so hot without makeup which leaves a n*gga ravenous.
Nevertheless… to call Kashmiere proactive would be a vast understatement. Rather than rely on others, the zealous damsel uses her feet to complete daily tasks which includes cooking, cleaning and brushing her teeth. Kashmiere learned to adapt shortly after making an egress from her mother's womb.
"Everything was just with her feet, like holding her bottle, her pacifier, she would flick it in and out with her toe," explained Tomika Bomar, Kashmiere's mom. "We were just watching like, 'Wow, Ok!'"
Following a lengthy battle with low self-esteem, Kashmiere is now more assertive than ever. "I really came a long way from me not having self-esteem and confidence to me being where I am now," she said. "This life is not easy, like adapting, because I just had to learn how to adapt… it wasn't easy."
Kashmiere earned a psychology degree at Texas Woman's University.
She has a driver's license and, yes, she steers with her feet.
Watch her incredible videos.
Share your thoughts.