DeSean Jackson infuriates Jews.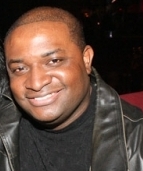 Blog King, Mass Appeal
PHILADELPHIA — Wide receiver DeSean Jackson of the Philadelphia Eagles is submerged in boiling hot water after he posted a screenshot of a publication that features a quote attributed to Adolf Hitler that claims Jews intend to "extort" and "blackmail" America as a strategem for "world domination." DeSean disseminated the excerpt from his Instagram Page on Sunday and, according to the post, Hitler said, "because the white Jews knows that the Negroes are the real Children of Israel and to keep Americas secret the Jews will blackmail America. The [Jews] will extort America, their plan for world domination won't work if the Negroes know who they were. The white citizens of America will be terrified to know that all this time they've been mistreating and discriminating and lynching the Children of Israel."
DeSean's post drew vitriol from legions of incensed readers and that includes former Eagles president Joe Banner who's Jewish. "If a white player said anything about (African Americans) as outrageous as what Desean Jackson said about Jews tonight there would at least be a serious conversation about cutting him and a need for a team meeting to discuss. Which would be totally appropriate," Banner tweeted.
"Absolutely indefensible."
DeSean also paid homage to Nation of Islam honcho Louis Farrakhan — the minister labeled anti-Semitic by the Anti-Defamation League. Farrakhan hates Jews and he once referred to Judaism as a "gutter religion" while lauding Hitler as a "great man." The Nation of Islam is considered a hate group.
According to Snopes.com, Hitler never said the aforementioned quote.
But many believe he did.
DeSean issued an apology via Instagram Live.
"I want to apologize to the Jewish community, Jeffrey Lurie, Howie Roseman, Doug Peterson, the Eagles organization and our fans for the insensitive and ill-informed posts that I shared on my social media," he said. "This apology is more than just words — it is a promise to do better. I will fully educate myself and work with local and national organizations to be more informed and make a difference in our community."
Former NBA player Stephen Jackson, who defended DeSean's deportment, also apologized during an appearance on CNN. Do you accept their apologies? Should DeSean keep his job?
Share your thoughts.