Nefarious nanny abuses neonate.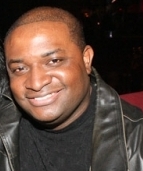 Blog King, Mass Appeal
BRONX — Here's another reason to remain skeptical of who watches your kids: Abena Yeboah, a 71-year-old nanny, had her black ass thrown in jail after she assaulted a 9-month-old infant who was under her care. The heinous act of child abuse transpired July 8th inside a New York City residence. It was also captured on video. Nanny cam footage shows Abena thwacking and kicking the wailing neonate several times in the cranium while changing his poopy diaper. Moments later, the nefarious hag picks up the baby by the arm and proceeds to oscillate him repeatedly before shoving a bottle down his esophagus.
The child's mother can be heard whimpering in the background as she descried the pummeling.
The video was eventually turned over to law enforcement officials which culminated in Abena's arrest. The Ghanaian assailant is charged with one count of Title IX child abuse. "During her time as a nanny for the family, she was observed on a nanny camera physically abusing the child by hitting, kicking, and yanking the child by the arm," said Bergen County Prosecutor Mark Musella while announcing the arrest.
Abena faces up to 18 months in prison.
Thank God for nanny cams!
Watch the disturbing video.
Share your thoughts.