Faizon Love slams Jay-Z's reputation.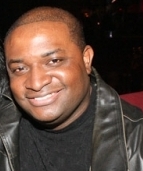 Blog King, Mass Appeal
NEW YORK — While making a recent virtual appearance on "Hip Hop Uncensored," corpulent comic Faizon Love went postal on Jay-Z's gangsta reputation — calling the 50-year-old rapper a counterfeit narcotics peddler who "don't know the dope game." Faizon, 52, then lambasted Jay-Z for impersonating a cutthroat mobster, claiming he's yet to engage in a bout of fisticuffs. The "Bulletproof" actor also believes LL Cool J would beat Jay-Z's ass with relative ease. "Why is everyone afraid of Jay-Z?" Faizon cracked.
"I like Jay-Z. I like him as a guy… The whole era thing he created about this fake dope dealing, that's when I stopped liking him. This n*gga never sold no cocaine – I don't think he ever won a fight. This n*gga has never sold cocaine. Ever. You know why? He keeps telling all these stories about how he did this and did [that] but there's no stories about the other side of selling cocaine, n*gga. There's another side, somebody gonna bust you. Nobody ever sold you pancake?"
Rapper Cam'ron rushed to Jay'Z's defense via Twitter.
"I know me and Hov haven't had the best relationship," he wrote.
"But Faizon don't know what the f*ck he's talking about!"
Do you agree with Faizon?
Is Jay-Z a halfway crook?
Is the rap industry fake in general?
Watch Faizon's interview.
Share your thoughts.